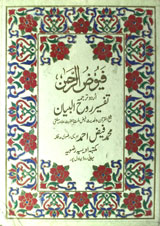 Name:

Foyoz ur Rehman Tafseer Ruh al-Bayan 18, 19, 20

Name:

فیو ض الرحٰمن اردو تر جمہ تفسیر روح البیان ۸،۱۹،۲۰

Author:
Allama Muhammad Ismail Haqi علا مہ محمد اسماعیل حقی
Hazrat Allama Muhammad Faiz Ahmad Owaisi حضرت علامہ محمد فیض احمد اویسی

Language:

Urdu

Publisher:

Maktaba Owais Rizvi

Publish Date:

30-Nov-2005

Description:

Fuyuz ur Rahman Explanation and Exegesis of Quran; Tafsir Ruh al-Bayan is one of the famous Sufi Tafsirs of Quran, popular in Sunni scholars and often quoted from. Arabic version contains 10 volumes. It has also been translated in Urdu by Mufti Faiz Ahmed Owaisi. The author Sheikh Ismail Haqqi was a great sheikh of Naqshbandi Mujaddidi order and belonged to the Khalidi branch of this order. One of his Turkish books has been translated into English with the name "kernel of kernels".
Downlaod PDF files here (Instructions)
Internet Explorer: To download the book, right click the link and then click on "Save Target As…"
FireFox: To download the book, right click and then click on "Save Link As…"